Coach Beez is doing things right. He's teaching the game the right way, so that as you get bigger and stronger…you take those skills that you have developed, and now you're ready to be something special." –
-Doug Collins, ESPN NBA Analyst and Former NBA Player and Coach
CHRISTMAS FUNDAMENTALS CAMP 2017
DATES / TIMES
December 26 – 29, 2017
9:00am-1:00pm
SKILLS TRAINED
Shooting, ball handling, footwork, moving without the ball, passing, conditioning, rebounding, and defense.
PRICING
Price Per Player – $160
Sibling – $140
NOTE: PAYMENT MAY BE MADE THE FIRST DAY OF CAMP, EITHER BY CASH OR CHECK ( PLEASE MAKE CHECKS PAYABLE TO MATT BEEUWSAERT )
CLICK FLIER FOR MORE INFORMATION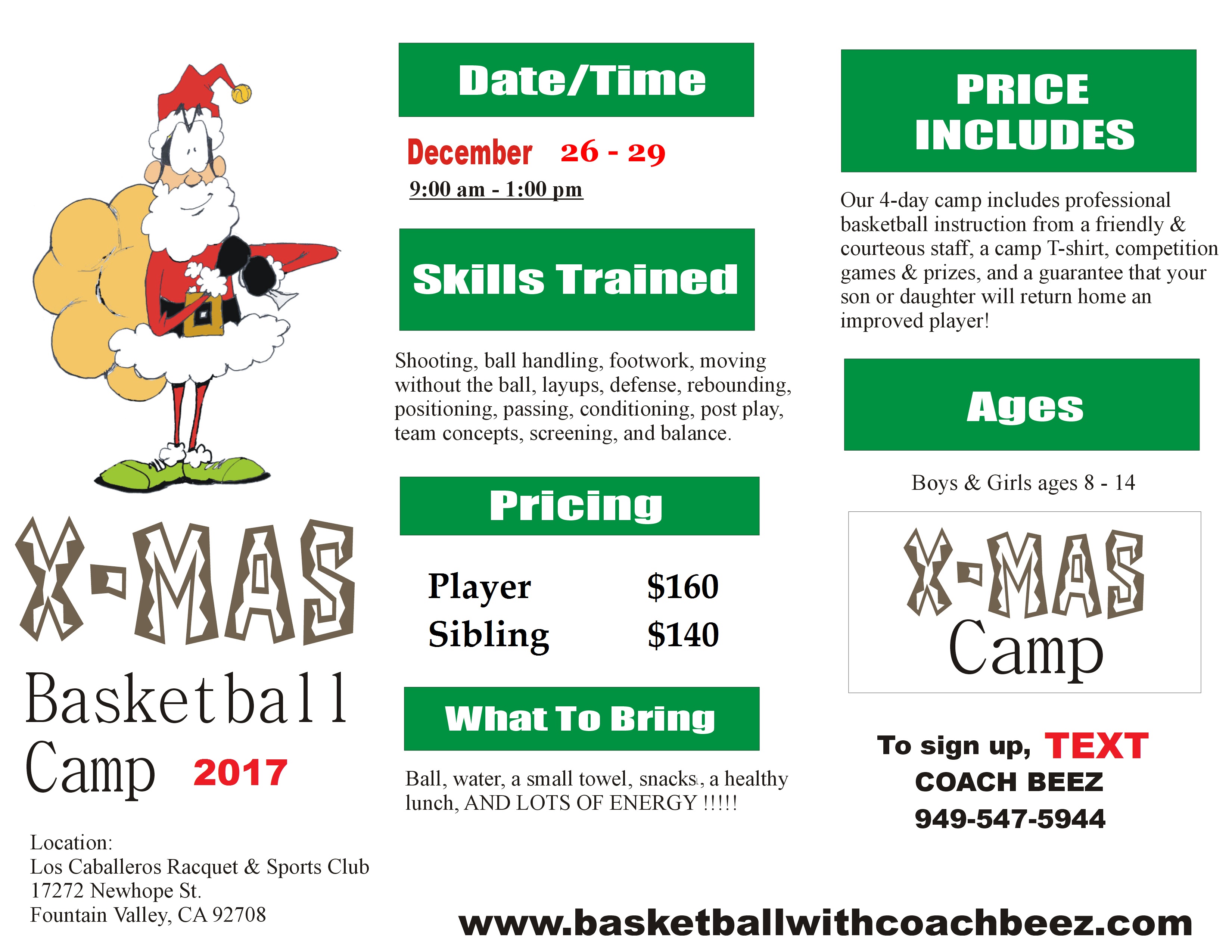 PRICE INCLUDES
All our camps include professional basketball instruction from a friendly & courteous staff, a camp t-shirt, competition games & prizes, and a guarantee that your son or daughter will return home an improved player!
WHAT TO BRING
Ball, water, small towel, snacks, a healthy lunch, AND LOTS OF ENERGY!!!
To sign up, contact
COACH BEEZ
949-547-5944
basketballwithcoachbeez@cox.net
LOCATION
Los Caballeros Raquet & Sports Club
17272 Newhope St.
Fountain Valley, CA 92708
REGISTRATION FORMS
Please DOWNLOAD, PRINT, FILL OUT, and SIGN these two forms for players to bring to their first session.