Coach Beez is doing things right. He's teaching the game the right way, so that as you get bigger and stronger…you take those skills that you have developed, and now you're ready to be something special." –
-Doug Collins, ESPN NBA Analyst and Former NBA Player and Coach
Coach Beez is the best PRIVATE SHOOTING COACH in Orange County. He is also the best PRIVATE BASKETBALL COACH in Orange County and the surrounding areas.
He's worked with many young players, both boys and girls from the lower grades through high school and college, on the fundamentals of shooting. If you live in Orange County and you're looking for the best shooting instructor for your child, set up some lessons with Coach Beez today!
PRIVATE SHOOTING COACH and PRIVATE BASKETBALL COACH for youth and adults all over Southern California: Fountain Valley, Huntington Beach, Westminster, Garden Grove, Costa Mesa, Newport Coast, Corona Del Mar, Balboa Island, Irvine, Laguna Beach, Santa Ana, Shady Canyon, Tustin, Anaheim, Brea, Fullerton, Yorba Linda, Villa Park, Orange, Ladera Ranch, Mission Viejo, Laguna Hills, El Toro, Lake Forest, Coto De Caza, Rancho Santa Magarita, Dana Point, San Clemente, Riverside, San Juan Capistrano.
The Coach You Choose Should Know How to Shoot the Ball!
Watch Coach Beez Shoot 98-100 Free Throws:
Don't be fooled by trainers who claim to be something they are not. If you want to be sure, check their history: where did they play, what are their credentials? Just because they claim to to have trained N.B.A. players doesn't mean that they have. It's important that the coach you hire has the knowledge and background to really make a lasting impact on your son or daughter's development as a player. It's too much of an investment of time and money to not do your research. Here's a tip: ask them to shoot the basketball themselves. That will tell you everything you need to know.
TESTIMONIALS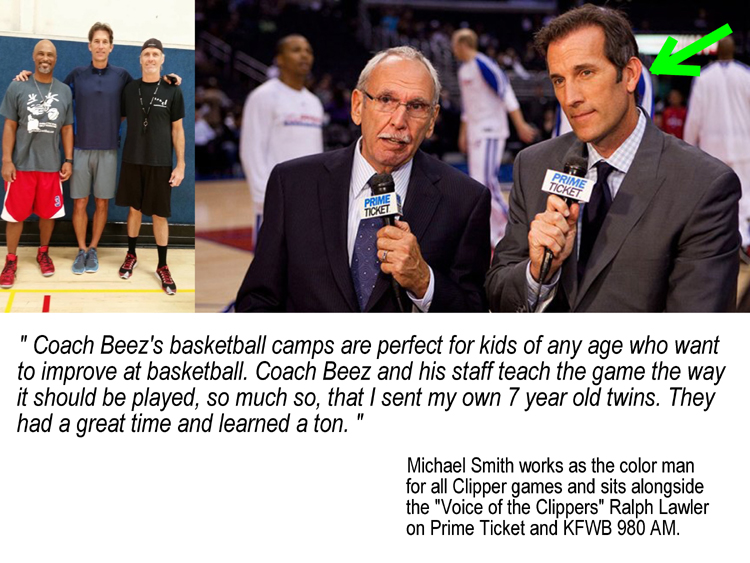 Letter from a Parent:
Hi Matt,  Here is the Sage Coach's speech at the Basketball Awards Ceremony.  JV Coach Billy Conlon:

I'm going to present the "Most Improved Player Award"

At the summer camp we thought this player would be a good fit on the Freshman team.  But, it was a no brainer at Fall tryouts that this player had every right to be on the JV team and I thought he might turn out to be a major contributor.  That turned out to be true.  This player was a really clutch player.  When it got to the fourth quarter he found a way to get to the hoop and either finish or get to the Free Throw Line.  He played great defense and was able to defend three different positions.  He worked really hard to become one of the best players towards the end of the season.  He has a bright future here at Sage Hill.  This years Most Improved Award goes to Brett.

Background:  Brett sat on the bench in the first game until 6 minutes were left.  In the last game of the season against Sage"s arch rival he was the only player that played the entire fourth quarter and all of the overtime period.  He played point, shooting guard and small forward during that time.  He led the team in free throws.

HE COULDN'T HAVE DONE IT WITHOUT YOUR TRAINING

BTW.  I don't know if we told you but Bailey had the three highest points games last year and won the Coaches Award.  Again, couldn't have been done without your help.

–Greg (Zach & Bailey's dad)
Text from a parent:
Coach Beez is the best!! After training with Coach Beez for a couple of sessions I saw an immediate improvement in my 12 year old daughter's shooting technique. This past weekend at a tournament, she scored 19 points in a single game which is her highest point total yet. It would not have been possible without the training, especially shooting skills and technique she learned from Coach Beez.
Thanks Coach!
Eric
Email from parent:
Thank you Coach Beez! I can't believe what a different player we see out there on the court. You have been absolutely the perfect match for Carson. Please let us know if we can provide feedback on any social media means – happy to do it.
From Students:
My shot was never consistent. I was an okay shooter, but my form was bad, which affected my shot. When I went to Coach Beez my release was bad, my timing was bad, and most of all, my confidence was shaky. But since I have been working with Coach, my form has improved, my timing has become almost spot-on, and my confidence is getting better every time we train. I learn something new at every session that makes my shot that much better. Even though I am still working on perfecting my mechanics, I have come a long way from my old, ugly shot, and am glad I've had the opportunity to train with Coach Beez." –Sean
Coach Beez has expanded my shot repertoire substantially.  After working extensively on my free throw motion with Coach, I feel confident every time I step to the line. I look forward to my weekly sessions with Coach Beez, because I know I will get results and learn something new that I can apply." –Zach